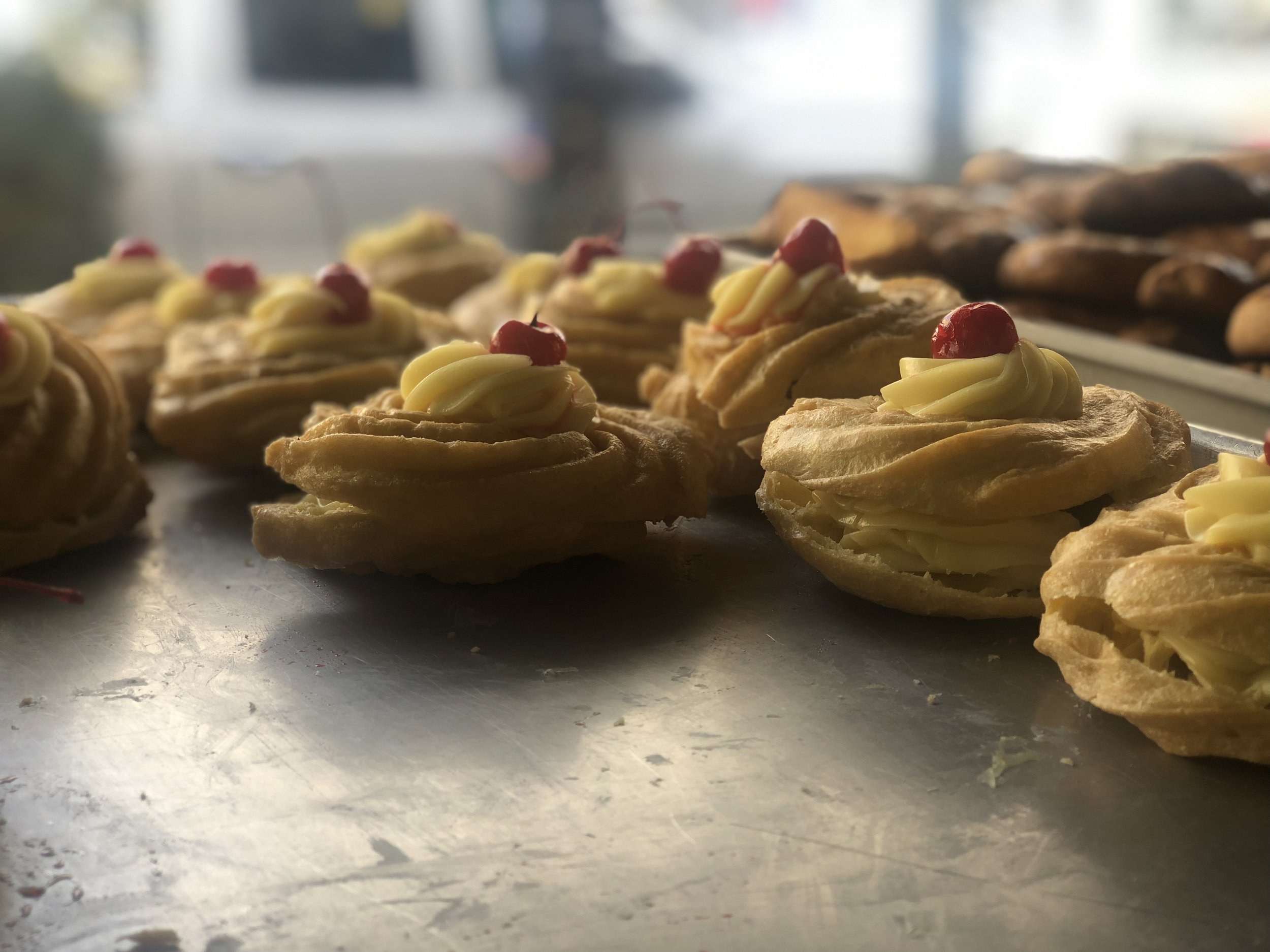 Walking, shopping, history, chatting with shopkeepers, on-the-go tastings
Book this as a private tour instead (Minimum 4 adults) or Buy as a gift certificate
Over 2.5 hours we'll'll visit a dozen Italian food shops across Arthur Avenue and 187th Street, the heart of Little Italy in the Bronx. The tour weaves together the history of the neighborhood, introductions to the shopkeepers, personal stories from our long family history on Arthur Avenue and food tastings equivalent to a medium-sized lunch. Tastings include coffee, bread, three types of cheese, pastries, salumi and pizza.
This tour is vegetarian friendly. No substitutions.
wednesdays, Fridays, Saturdays
This tour is all about the food! Three plated dishes, plus 3 shop visits with additional tastings
Book this as a private tour instead (Minimum 6 adults) or Buy as a gift certificate
This tour is a roving feast for Italian food lovers. You'll learn about the history of Little Italy in the Bronx while visiting both shops and restaurants. Tastings include chicken parm, eggplant parmigiana, pizza, spaghetti cacio e pepe and pastry.
No substitutions.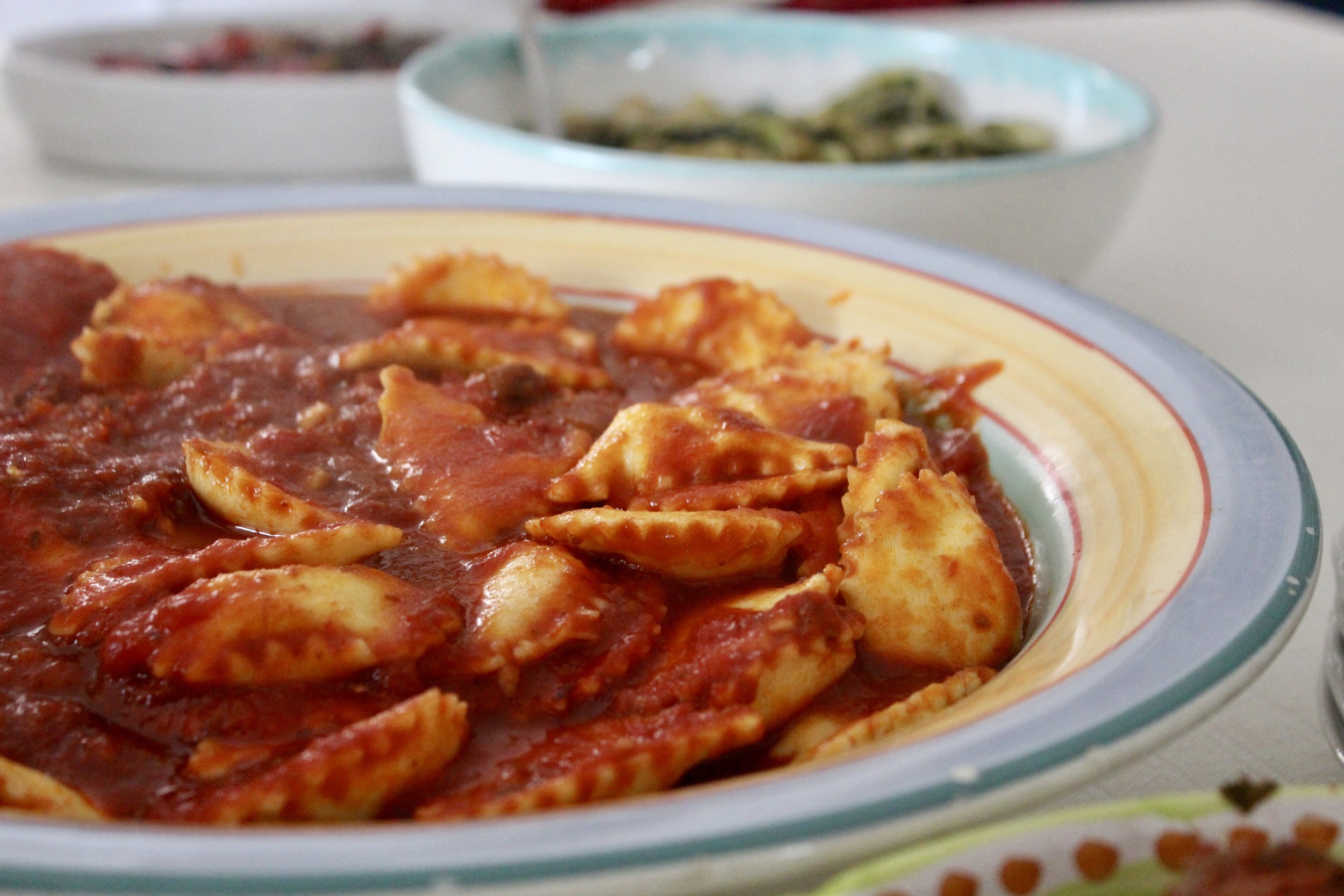 Book this as a private tour instead (Minimum 6 adults) or Buy as a gift certificate
Best for groups of friends and family who want to explore a new place, but also talk and spend time with each other
Come back to our old neighborhood for our iconic Sunday dinner. We start at noon at Little Italy's best deli for an antipasto plate of cheese and salumi. On our way to the main course we stop by the 83-year-old pasta shop that makes the ravioli we're about to enjoy. A special table is already set for us at Dominick's where we'll have ravioli and ragù (aka sauce, aka gravy) with meatballs and braciola. Lunch ends with a green salad, but don't fear, the dessert course is served at a very special pastry shop.
No substitutions.
Prefer to see a calendar view of our tours instead?
Little Italy in the Bronx, otherwise known as "Arthur Avenue" is New York's real Little Italy. This unique enclave tucked between the Bronx Zoo and the New York Botanical Garden has been an Italian neighborhood since the early 1900s. Within 6 city blocks there are over two dozen Italian shops and restaurants, many of which have been open for over 100 years. Italian food lovers will be amazed with the quality and diversity of shops where bread bakeries, specialty delis, and fresh pasta are a way of life.
We have three tours to suit a range of guests. If you're new to the neighborhood, take our signature Shopping & Tasting Tour. If you're interested in shops and restaurants, the Pizza, Pasta & Parm Tour will satisfy big appetites. Most shops are closed on Sundays, but Italian Sunday goes where the locals go and includes a class Italian family-style meal that will make you feel like you've come back to the old neighborhood, even if it's your first time here.
Tour runs rain or shine, please dress appropriately for the weather.

Walking covers approximately 6 square city blocks. There are two opportunities for bathroom breaks.

Guests who use wheelchairs and scooters are easily accommodated.

No substitutions available for tastings

All tours start in front of the Arthur Avenue Retail Market at 2344 Arthur Avenue.

Parking is available at the Municipal Parking lot directly across the street from our meeting place for $1.50 per hour, up to 3 hours. Guests arriving for afternoon tours on weekends should leave extra time for parking as the lot fills up with lunch time shoppers.

For public transportation we highly recommend taking Metro North instead of the NYC Subway. From Grand Central Station, take the Harlem line to the Fordham Station, just 17 minutes.